Sorry, Service Not Available -- and won't likely be fixed any time soon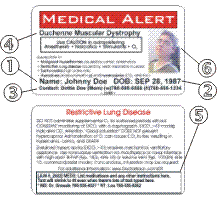 This form allows you to create a custom medical alert ID card similar to the one on the left. The size of the text will be adjusted to allow virtually any amount of text to fit; however, you should not add so much information that the text is too small to read.

Note: The PDF files created by this program (including the sample) is about 300k in size. It will take about 1 minute to download with a 56k modem. [Click for sample card]

The information you enter below is used only to create the card so it can be displayed and printed. The information is then discarded. You are welcome to experiment with what you want the card to say. After viewing your custom card, simply click the browser's Back button, make changes and try again.

The system will automatically put today's date (JUN 8, 2023) at the beginning of the "Additional Information" section. When information changes, simply come back and make a new card.
NOTES: You'll need the free Adobe Acrobat Reader to view and print the card.


To print or save the card as it appears in the Acrobat Reader, click the icons within the browser window.
---
Medical Alert ID
www.DoctorBach.com
---
Dr. Bach's Articles: ©2000-2004, John R. Bach, MD, used by permission.
Website: ©2001-2023, Rich Clingman ()

You are welcome to print or email the articles on this website provided you reference "www.DoctorBach.com". For any other use, please contact Rich Clingman prior to use.